ABOUT US
FleetServe has been operating for over 25 years servicing and maintaining some of the largest fleet operators in Australia. We are an Authorised Heavy Vehicle Inspection Station (HVIS) and Authorised Crane inspection Station (ACIS providing the most cost efficient service and maintenance available for your fleet day and night.
Whether you require a light globe to be changed, a Defect to be signed off, a complete major overhaul or just a Wash FleetServe provides the solution.
Have your vehicle serviced and maintained even washed, all at one modern, well-equipped, convenient centre. You can even relax in our guest lounge while FleetServe takes care of all your concerns.
The FleetServe team of professionals are skilled in servicing and repairing any make or model of Truck or Trailer, light commercial, even cars at a time to suit your schedule, day or night.
If it's a problem with engineering, electrical, air conditioning, pneumatics, hydraulics, tyres, brakes, transmissions it can be solved by FleetServe.
FleetServe's centrally located workshop at Chullora enables customers to benefit from a 'one stop shop' facility for vehicle maintenance providing regular servicing, breakdown service, major repairs, brake and shaker testing, maintenance and even truck washing. Our workshop is open from 7.00am till 12.30am Monday to Friday and Saturdays from 7.00pm till 2.00pm. This enables customers to schedule service and maintenance requirements at a time most convenient to them, whether in or out of 'normal working hours'.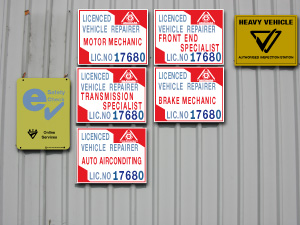 "Our commitment to the future of the transport industry is to provide the most cost effective and efficient service and maintenance option to both individual and fleet vehicle operators".
Peter and Sonia Rodwell, Directors.
Service and Maintenance:
Trucks, Trailers, Vehicles of all Makes & Sizes
Truck Wash for all Light & Heavy Vehicles including B-Doubles
Underbody Chassis Steam Cleaning for yearly Registration Inspection.
Registration Services:
Light & Heavy Vehicle Pink Slips
Defect Sign Offs
Day and Night Shift Servicing & Repairs available
24 hour emergency roadside service
Competitive rates.