TRUCK WASHING
SERVICES
Washes include:
Automated Roller Brush Wash
Hand washed cab
Pressure cleaning of wheels and chassis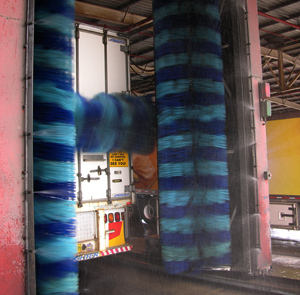 Other services available:
Cabin interior vacuum and detail
Inside pan pressure wash
Engine and Chassis Steam Clean
Underbody Chassis Washes as required for Heavy Vehicle yearly registration renewal
Washes are provided on site by FleetServe's fully automated 3 brush drive through washing facility.
Cabs are hand washed, chassis's pressure cleaned and tyres shined* (* additional charge applies).
We also have the facilities for engine washes, under body washes and interior pan washes.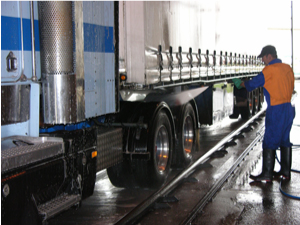 THE FLEETSERVE TRUCK WASH FACILITY OPERATES
Monday - Friday
From 7:00am to 3:30pm

Saturdays by prior bookings only.
From 7:00am to 11:00pm
TRUCK WASH PRICES

Cars/Light Vehicle

$50.00*

Rigid Truck under 4 tonne

$102.00*

Rigid truck over 8 tonne

$114.00*

Prime mover only

$102.00*

Prime mover & Trailer

$125.00*

B-Double

$170.00*

B-Double Trailers Only

$145.00*

Tipper Only

$114.00*

Tipper & Dog Trailer

$125.00*

Trailer only

$102.00*

Inside Pan Wash

$102.00*

Under body Steam Clean
First hour

$225.00*
Every 1/2 hour after

$100.00*

Cabin Detail
1/2 hour

$57.00*
1 hour

$114.00*

Tyre Shine

$22.00*
(* includes wash chemicals) All truck wash charges, as listed above are inclusive of GST.